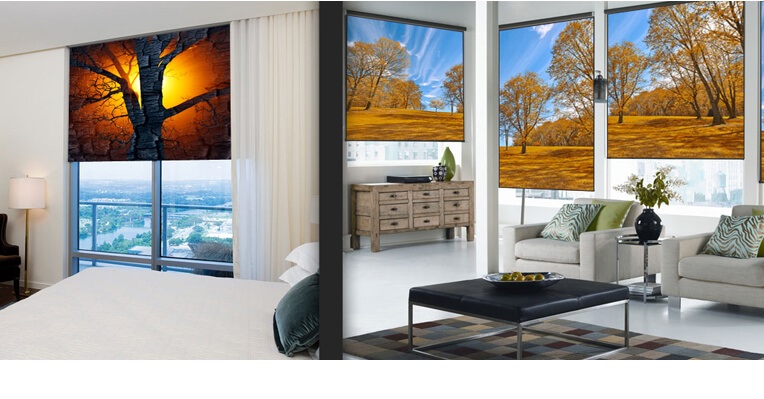 Add some character to your room with our special designer roller shades.
While we stick to the normal plain roller shades for years it is time to get some variety at home or any other place. Our pre-designed roller shades add a lot of charm to a place. The beauty of this piece of art in your house is that you can roll it up or down whenever you feel like. The shades come in a variety of designs like landscapes, animals, nature or plain colors.
Now you can customize your roller shades as per your choice.
We offer a wide range of custom window shades to suit your design needs. All you need to do is give us your design idea and we will convert it into a beautiful state-of-art window blind at the most reasonable cost. Our designer roller shades are made with a lot of detailing and finesse. We give preference to quality and will never let you down with our vibrant imprints. The colors and every detail in the design stand out due to the high-quality imprint that we offer. These full colored fancy shades make the best piece of furniture in a child's room as you can fill it up with fancy cartoon or movie characters and make waking up fun for the child.
Say goodbye to the same boring white window blinds and bring in colors to your room.
Window shades and blinds bring in the natural light. By changing the color of your blinds you can increase or decrease the amount of light you let in. You can choose what kind of lighting do you want in your house by simply changing the pattern of your printed blinds. You get all these features at affordable rates, custom made and at your doorstep. Our range of custom shades and blinds are suitable for houses, offices, shops or any kind of other spaces.